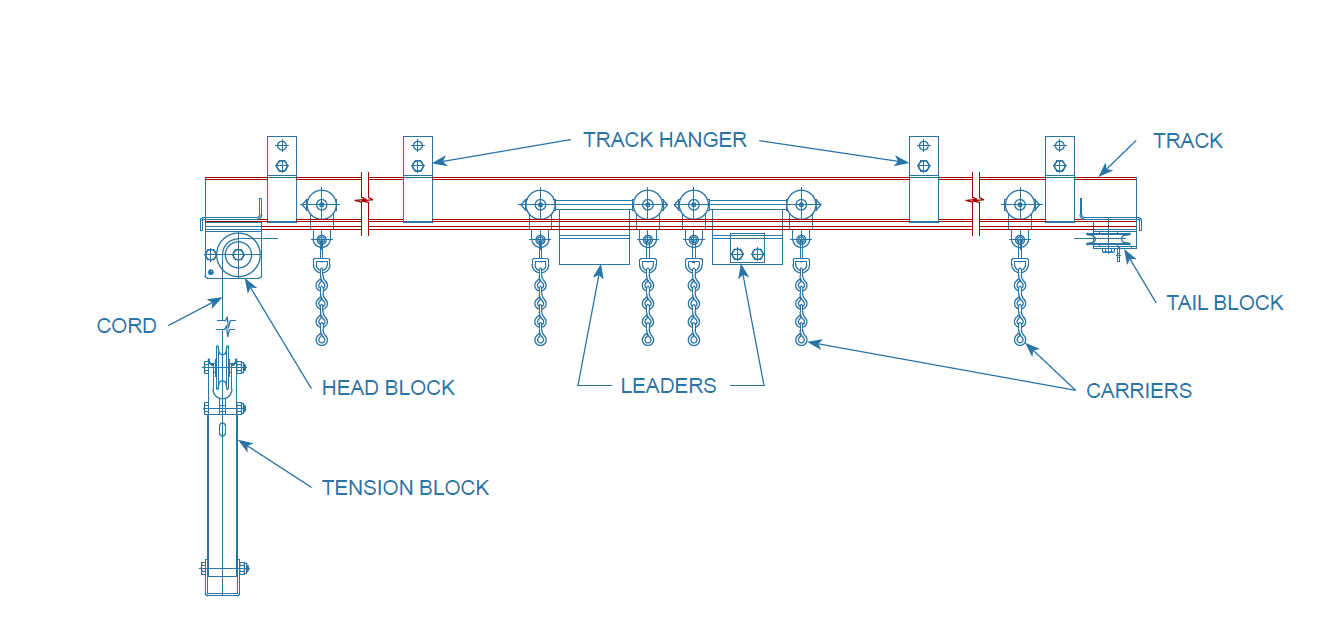 1200 Medium Duty Straight Track is a .075" powder coated aluminum extrusion with drop flange construction. CWANA* prices are based on purchase of 20 ft., 24 ft. or 30 ft. track lengths. Shorter lengths to be priced using individual parts and minimum track lengths of 24 ft. Track lengths over 30 ft. use CWANA price for first 30 ft. then individual pricing for additional components. Track may be equipped with standard leaders (master carriers), drag line leaders, masking leaders or pivot leaders.
*CWANA = Complete With All Necessary Accessories
1200 straight tracks are available in motorized, cord operated, or walk along formats. These tracks have an exclusive drop flange construction coupled with a fin guided carrier design to insure quiet, non-fouling and automatically aligning operation. Tracks may be rigged as bi-parting, lap, or one-way draw.
CWANA Drapery track assemblies include the following components:
1 ea.
1201 Track (20, 24 or 30 ft)
1 ea.
1202 Head Block
1 ea.
1203 Tail Block
2 ea.
1204 Leaders (Master Carriers)
1 pr.
1207I End Stop with Idler

6 pr.

7 pr.

8 pr.

1208 Intermediate Track Hangers (provided on 4 ft. centers)

20 ft. Track

24 ft. Track

30 ft. Track

2 ea.
1209 Center Hanger for Bi-Parting Track

20 ea.

24 ea.

30 ea.

1210 Carriers (1 per track ft.)

20 ft. Track

24 ft. Track

30 ft. Track

1 ea.
1211 Spring Loaded Floor Mount Tension Black
Components
1201
Track (20, 24 or 30 ft. lengths)
 1202
 Head Block
 1202H
 Head Block Horizontal Takeoff
 1203
 Tail Block
 1204
 Leader
 1205
 Lap Leader with Nylon Guides
 1206
 Leader – Dragline with up to 20 ft. 1/8" dia. nylon coated cable and ring
 1206M6
 Masking Leader 6" Spacing
 1206M9
 Masking Leader 9" Spacing
 1206P
 Pivot Leader with 5 ft. x 1 1/4" Steel Tube
 1207
 End Stop without Idler
 1207I
 End Stop with Idler
 1208
 Intermediate Track Hanger
 1208S
 Track Splice Hanger
 1209
 Track Center Overlap Hanger
 1210
 Carriers
 1211
 Spring Loaded Tension Block
 BC08
 1/4" dia. Mahogany Bell Cord
 WRL13
 1/8" x 3/16" Clear Nylon Coated Aircraft Cable
1200 Series Straight Track Components
Quickview

1000 Series Straight Track, 1000 Track & Hardware, 1200 Series Straight Track, 2500 Series Heavy Duty Cyclorama Track, 2500 Single Track, Straight CWANA, 2500 Track & Hardware, 2500-2 Double Track, Straight CWANA, 2500-2C Double Track, 1 Curve CWANA, 2500-3 Triple Track, Straight CWANA, 2500-3C Triple Track, 1 Curve CWANA, 2500C Single Track, 1 Curve CWANA, 2900 Lift Curtain Rigging, Rigging and Miscellaneous Hardware

2" tube clamp. (Pair)

$

7.00
1200 Standard CWANA
Quickview

1200 Series Straight Track, 1200 Series Straigth Track CWANA, 2200 Series Curved Track, 2200 Straight Track CWANA, 2200C Curved (1 Curve) Track CWANA, 2300 Series Medium Duty Cyclorama Track, 2300 Single Track, Straight CWANA, 2300-2 Double Track, Straight CWANA, 2300-2C Double Track, 1 Curve CWANA, 2300C Single Track, 1 Curve CWANA, Track Carriers

Intermediate Nylon Carrier (1 per track ft.)

$

62.50