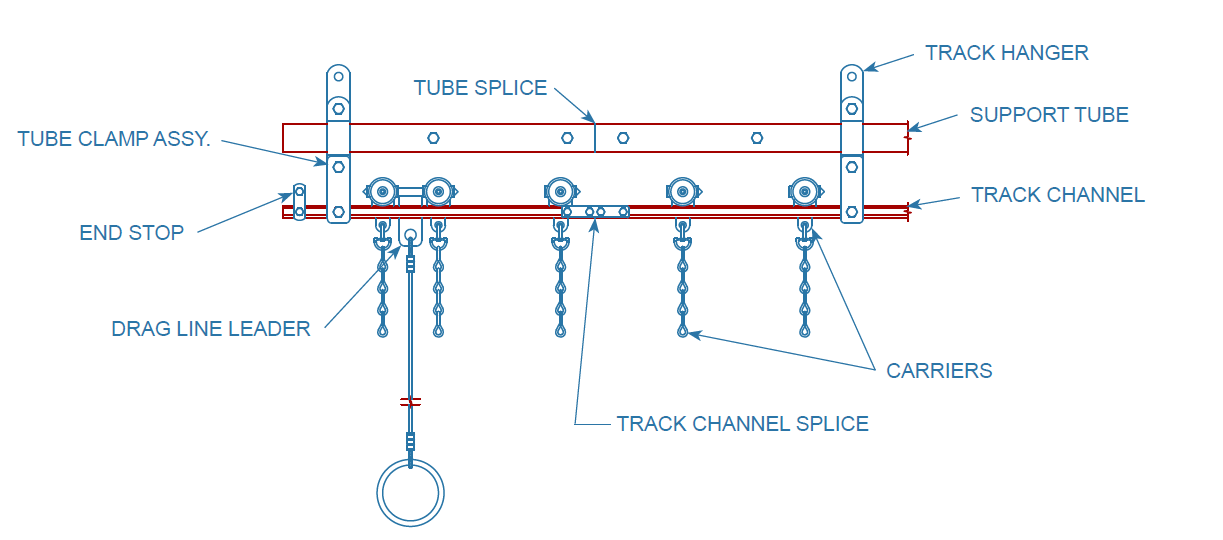 2500 Heavy Duty Cyclorama Track is constructed using a 2" O.D. x .049" steel tube strong-back from which 14 gauge "C" channel carrier rails are supported. Track assemblies are supplied in straight or curved sections. Carrier rails are concentrically roll formed to match strong-back. Heavy wall tube may be substituted on strong-back for applications requiring extra wide supports or heavy loads. Master carriers are supplied with a nylon coated wire rope pull line for walk along operation. CWANA* prices for straight and curved track sections are based on purchase of 20 ft. track lengths. Minimum curve radius is 24 inches. Shorter lengths are priced on request. Standard center spacing for double or triple track is 8″.
*CWANA = Complete With All Necessary Accessories
2500 Cyclorama Tracks are designed for walk along operation and are supplied in straight, curved, and serpentine sections. 2500 can be fabricated in single, double or triple track assemblies. A variety of track switching mechanisms are available for the track system. Open rail construction makes for simple maintenance and carrier replacement.
CWANA Drapery track assemblies include the following components:
1 assy.
2500 Track Assembly (20 ft.)
5 pr.
1015C Track Tube Clamps provided 5 ft. on center
1 ea.
1006 Standard Drag-Line Leaders with up to 30 ft Cable and Ring
1 pr.
2008 Track End Stops
20 ea.
8010 Standard Carriers provided 1 ft. on center
CWANA 2500 DRAPERY TRACK ASSEMBLIES
2500
Single Track, Straight CWANA 

Add CWANA to cart

2500C
Single Track, 1 Curve CWANA 

Add CWANA to cart

2500-2
Double Track, Straight CWANA 

Add CWANA to cart

2500-2C
Double Track, 1 Curve CWANA 

Add CWANA to cart

2500-3
Triple Track, Straight CWANA 

Add CWANA to cart

2500-3C
Triple Track, 1 Curve CWANA 

Add CWANA to cart

Additional Components
 1006
 Standard Drag-Line Leader with cable and ring (up to 25 ft.)
 1006BB
Ball Bearing Leader with 3/32" x 1/8" nylon cable and ring
 1006SCBB
 Scenery Leader Ball Bearing ½" Dia. x 5" All Thread
 1006SCBB3/8
 Scenery Leader with 3/8" x 5" All Thread
 1006SCBB1/2
 Scenery Leader with ½" x 5" All Thread
 8010
 Standard Carrier
 8010BB
 Ball Bearing Carrier
 2008
 Track End Stop (pair)
 2016
 Track Channel Splice
 8920
 Track Tube Splice
 1015C
 2" Track Tube Clamp
 8536
 Track Channel 16 gauge (20 ft. length)
 RST801
 2" x .049″ Round Steel Tube painted and drilled for splice (20ft.)
2500 Series Heavy Duty Cyclorama Track Components
Quickview

1000 Series Straight Track, 1000 Track & Hardware, 1200 Series Straight Track, 2500 Series Heavy Duty Cyclorama Track, 2500 Single Track, Straight CWANA, 2500 Track & Hardware, 2500-2 Double Track, Straight CWANA, 2500-2C Double Track, 1 Curve CWANA, 2500-3 Triple Track, Straight CWANA, 2500-3C Triple Track, 1 Curve CWANA, 2500C Single Track, 1 Curve CWANA, 2900 Lift Curtain Rigging, Rigging and Miscellaneous Hardware

2" tube clamp. (Pair)

$

7.00
2500 Single Track, Straight CWANA
Quickview

1000 Series Straight Track, 1000 Track & Hardware, 1200 Series Straight Track, 2500 Series Heavy Duty Cyclorama Track, 2500 Single Track, Straight CWANA, 2500 Track & Hardware, 2500-2 Double Track, Straight CWANA, 2500-2C Double Track, 1 Curve CWANA, 2500-3 Triple Track, Straight CWANA, 2500-3C Triple Track, 1 Curve CWANA, 2500C Single Track, 1 Curve CWANA, 2900 Lift Curtain Rigging, Rigging and Miscellaneous Hardware

2" tube clamp. (Pair)

$

7.00
2500C Single Track, 1 Curve CWANA
Quickview

1000 Series Straight Track, 1000 Track & Hardware, 1200 Series Straight Track, 2500 Series Heavy Duty Cyclorama Track, 2500 Single Track, Straight CWANA, 2500 Track & Hardware, 2500-2 Double Track, Straight CWANA, 2500-2C Double Track, 1 Curve CWANA, 2500-3 Triple Track, Straight CWANA, 2500-3C Triple Track, 1 Curve CWANA, 2500C Single Track, 1 Curve CWANA, 2900 Lift Curtain Rigging, Rigging and Miscellaneous Hardware

2" tube clamp. (Pair)

$

7.00

Quickview

2500 Single Track, Straight CWANA, 2500-2 Double Track, Straight CWANA, 2500-2C Double Track, 1 Curve CWANA, 2500-3 Triple Track, Straight CWANA, 2500-3C Triple Track, 1 Curve CWANA, 2500C Single Track, 1 Curve CWANA

2500 Track Assembly (20' only) includes the following components:

RST801 - 2" Dia. Round Steel Tube
8536 - Track Channel
8539-2 - 1/4" x 1 1/4" Hanger Strap
3/8" Hex Bolt with Spacers
8520 - 2" Tube Clamp

$

1.00

Quickview

1000 Series Straight Track, 1000 Series Track Leaders, 2500 Series Heavy Duty Cyclorama Track, 2500 Single Track, Straight CWANA, 2500-2 Double Track, Straight CWANA, 2500-2C Double Track, 1 Curve CWANA, 2500-3 Triple Track, Straight CWANA, 2500-3C Triple Track, 1 Curve CWANA, 2500C Single Track, 1 Curve CWANA

Includes 1/8" dia. nylon cable (up to 25 ft.) and 3" dia. ring

$

60.00

Quickview

2000 Series Curved Track, 2000 Straight Track CWANA, 2000 Track & Hardware, 2000C Curved (1 Curve) Track CWANA, 2500 Series Heavy Duty Cyclorama Track, 2500 Single Track, Straight CWANA, 2500 Track & Hardware, 2500-2 Double Track, Straight CWANA, 2500-2C Double Track, 1 Curve CWANA, 2500-3 Triple Track, Straight CWANA, 2500-3C Triple Track, 1 Curve CWANA, 2500C Single Track, 1 Curve CWANA

End Stop (pair.)

$

18.50

Quickview

1000 Series Straight Track, 1000 Standard CWANA, 2000 Series Curved Track, 2000 Straight Track CWANA, 2000C Curved (1 Curve) Track CWANA, 2500 Series Heavy Duty Cyclorama Track, 2500 Single Track, Straight CWANA, 2500-2 Double Track, Straight CWANA, 2500-2C Double Track, 1 Curve CWANA, 2500-3 Triple Track, Straight CWANA, 2500-3C Triple Track, 1 Curve CWANA, 2500C Single Track, 1 Curve CWANA, Track Carriers

Standard Neoprene Carrier (1 per track ft.)

$

117.50
2500-2 Double Track, Straight CWANA
Quickview

1000 Series Straight Track, 1000 Track & Hardware, 1200 Series Straight Track, 2500 Series Heavy Duty Cyclorama Track, 2500 Single Track, Straight CWANA, 2500 Track & Hardware, 2500-2 Double Track, Straight CWANA, 2500-2C Double Track, 1 Curve CWANA, 2500-3 Triple Track, Straight CWANA, 2500-3C Triple Track, 1 Curve CWANA, 2500C Single Track, 1 Curve CWANA, 2900 Lift Curtain Rigging, Rigging and Miscellaneous Hardware

2" tube clamp. (Pair)

$

7.00

Quickview

2500 Single Track, Straight CWANA, 2500-2 Double Track, Straight CWANA, 2500-2C Double Track, 1 Curve CWANA, 2500-3 Triple Track, Straight CWANA, 2500-3C Triple Track, 1 Curve CWANA, 2500C Single Track, 1 Curve CWANA

2500 Track Assembly (20' only) includes the following components:

RST801 - 2" Dia. Round Steel Tube
8536 - Track Channel
8539-2 - 1/4" x 1 1/4" Hanger Strap
3/8" Hex Bolt with Spacers
8520 - 2" Tube Clamp

$

1.00

Quickview

1000 Series Straight Track, 1000 Series Track Leaders, 2500 Series Heavy Duty Cyclorama Track, 2500 Single Track, Straight CWANA, 2500-2 Double Track, Straight CWANA, 2500-2C Double Track, 1 Curve CWANA, 2500-3 Triple Track, Straight CWANA, 2500-3C Triple Track, 1 Curve CWANA, 2500C Single Track, 1 Curve CWANA

Includes 1/8" dia. nylon cable (up to 25 ft.) and 3" dia. ring

$

60.00

Quickview

2000 Series Curved Track, 2000 Straight Track CWANA, 2000 Track & Hardware, 2000C Curved (1 Curve) Track CWANA, 2500 Series Heavy Duty Cyclorama Track, 2500 Single Track, Straight CWANA, 2500 Track & Hardware, 2500-2 Double Track, Straight CWANA, 2500-2C Double Track, 1 Curve CWANA, 2500-3 Triple Track, Straight CWANA, 2500-3C Triple Track, 1 Curve CWANA, 2500C Single Track, 1 Curve CWANA

End Stop (pair.)

$

18.50

Quickview

1000 Series Straight Track, 1000 Standard CWANA, 2000 Series Curved Track, 2000 Straight Track CWANA, 2000C Curved (1 Curve) Track CWANA, 2500 Series Heavy Duty Cyclorama Track, 2500 Single Track, Straight CWANA, 2500-2 Double Track, Straight CWANA, 2500-2C Double Track, 1 Curve CWANA, 2500-3 Triple Track, Straight CWANA, 2500-3C Triple Track, 1 Curve CWANA, 2500C Single Track, 1 Curve CWANA, Track Carriers

Standard Neoprene Carrier (1 per track ft.)

$

117.50
2500-2C Double Track, 1 Curve CWANA
Quickview

1000 Series Straight Track, 1000 Track & Hardware, 1200 Series Straight Track, 2500 Series Heavy Duty Cyclorama Track, 2500 Single Track, Straight CWANA, 2500 Track & Hardware, 2500-2 Double Track, Straight CWANA, 2500-2C Double Track, 1 Curve CWANA, 2500-3 Triple Track, Straight CWANA, 2500-3C Triple Track, 1 Curve CWANA, 2500C Single Track, 1 Curve CWANA, 2900 Lift Curtain Rigging, Rigging and Miscellaneous Hardware

2" tube clamp. (Pair)

$

7.00

Quickview

2500 Single Track, Straight CWANA, 2500-2 Double Track, Straight CWANA, 2500-2C Double Track, 1 Curve CWANA, 2500-3 Triple Track, Straight CWANA, 2500-3C Triple Track, 1 Curve CWANA, 2500C Single Track, 1 Curve CWANA

2500 Track Assembly (20' only) includes the following components:

RST801 - 2" Dia. Round Steel Tube
8536 - Track Channel
8539-2 - 1/4" x 1 1/4" Hanger Strap
3/8" Hex Bolt with Spacers
8520 - 2" Tube Clamp

$

1.00

Quickview

1000 Series Straight Track, 1000 Series Track Leaders, 2500 Series Heavy Duty Cyclorama Track, 2500 Single Track, Straight CWANA, 2500-2 Double Track, Straight CWANA, 2500-2C Double Track, 1 Curve CWANA, 2500-3 Triple Track, Straight CWANA, 2500-3C Triple Track, 1 Curve CWANA, 2500C Single Track, 1 Curve CWANA

Includes 1/8" dia. nylon cable (up to 25 ft.) and 3" dia. ring

$

60.00

Quickview

2000 Series Curved Track, 2000 Straight Track CWANA, 2000 Track & Hardware, 2000C Curved (1 Curve) Track CWANA, 2500 Series Heavy Duty Cyclorama Track, 2500 Single Track, Straight CWANA, 2500 Track & Hardware, 2500-2 Double Track, Straight CWANA, 2500-2C Double Track, 1 Curve CWANA, 2500-3 Triple Track, Straight CWANA, 2500-3C Triple Track, 1 Curve CWANA, 2500C Single Track, 1 Curve CWANA

End Stop (pair.)

$

18.50

Quickview

1000 Series Straight Track, 1000 Standard CWANA, 2000 Series Curved Track, 2000 Straight Track CWANA, 2000C Curved (1 Curve) Track CWANA, 2500 Series Heavy Duty Cyclorama Track, 2500 Single Track, Straight CWANA, 2500-2 Double Track, Straight CWANA, 2500-2C Double Track, 1 Curve CWANA, 2500-3 Triple Track, Straight CWANA, 2500-3C Triple Track, 1 Curve CWANA, 2500C Single Track, 1 Curve CWANA, Track Carriers

Standard Neoprene Carrier (1 per track ft.)

$

117.50
2500-3 Triple Track, Straight CWANA
Quickview

1000 Series Straight Track, 1000 Track & Hardware, 1200 Series Straight Track, 2500 Series Heavy Duty Cyclorama Track, 2500 Single Track, Straight CWANA, 2500 Track & Hardware, 2500-2 Double Track, Straight CWANA, 2500-2C Double Track, 1 Curve CWANA, 2500-3 Triple Track, Straight CWANA, 2500-3C Triple Track, 1 Curve CWANA, 2500C Single Track, 1 Curve CWANA, 2900 Lift Curtain Rigging, Rigging and Miscellaneous Hardware

2" tube clamp. (Pair)

$

7.00

Quickview

2500 Single Track, Straight CWANA, 2500-2 Double Track, Straight CWANA, 2500-2C Double Track, 1 Curve CWANA, 2500-3 Triple Track, Straight CWANA, 2500-3C Triple Track, 1 Curve CWANA, 2500C Single Track, 1 Curve CWANA

2500 Track Assembly (20' only) includes the following components:

RST801 - 2" Dia. Round Steel Tube
8536 - Track Channel
8539-2 - 1/4" x 1 1/4" Hanger Strap
3/8" Hex Bolt with Spacers
8520 - 2" Tube Clamp

$

1.00

Quickview

1000 Series Straight Track, 1000 Series Track Leaders, 2500 Series Heavy Duty Cyclorama Track, 2500 Single Track, Straight CWANA, 2500-2 Double Track, Straight CWANA, 2500-2C Double Track, 1 Curve CWANA, 2500-3 Triple Track, Straight CWANA, 2500-3C Triple Track, 1 Curve CWANA, 2500C Single Track, 1 Curve CWANA

Includes 1/8" dia. nylon cable (up to 25 ft.) and 3" dia. ring

$

60.00

Quickview

2000 Series Curved Track, 2000 Straight Track CWANA, 2000 Track & Hardware, 2000C Curved (1 Curve) Track CWANA, 2500 Series Heavy Duty Cyclorama Track, 2500 Single Track, Straight CWANA, 2500 Track & Hardware, 2500-2 Double Track, Straight CWANA, 2500-2C Double Track, 1 Curve CWANA, 2500-3 Triple Track, Straight CWANA, 2500-3C Triple Track, 1 Curve CWANA, 2500C Single Track, 1 Curve CWANA

End Stop (pair.)

$

18.50

Quickview

1000 Series Straight Track, 1000 Standard CWANA, 2000 Series Curved Track, 2000 Straight Track CWANA, 2000C Curved (1 Curve) Track CWANA, 2500 Series Heavy Duty Cyclorama Track, 2500 Single Track, Straight CWANA, 2500-2 Double Track, Straight CWANA, 2500-2C Double Track, 1 Curve CWANA, 2500-3 Triple Track, Straight CWANA, 2500-3C Triple Track, 1 Curve CWANA, 2500C Single Track, 1 Curve CWANA, Track Carriers

Standard Neoprene Carrier (1 per track ft.)

$

117.50
2500-3C Triple Track, 1 Curve CWANA
Quickview

1000 Series Straight Track, 1000 Track & Hardware, 1200 Series Straight Track, 2500 Series Heavy Duty Cyclorama Track, 2500 Single Track, Straight CWANA, 2500 Track & Hardware, 2500-2 Double Track, Straight CWANA, 2500-2C Double Track, 1 Curve CWANA, 2500-3 Triple Track, Straight CWANA, 2500-3C Triple Track, 1 Curve CWANA, 2500C Single Track, 1 Curve CWANA, 2900 Lift Curtain Rigging, Rigging and Miscellaneous Hardware

2" tube clamp. (Pair)

$

7.00

Quickview

2500 Single Track, Straight CWANA, 2500-2 Double Track, Straight CWANA, 2500-2C Double Track, 1 Curve CWANA, 2500-3 Triple Track, Straight CWANA, 2500-3C Triple Track, 1 Curve CWANA, 2500C Single Track, 1 Curve CWANA

2500 Track Assembly (20' only) includes the following components:

RST801 - 2" Dia. Round Steel Tube
8536 - Track Channel
8539-2 - 1/4" x 1 1/4" Hanger Strap
3/8" Hex Bolt with Spacers
8520 - 2" Tube Clamp

$

1.00

Quickview

1000 Series Straight Track, 1000 Series Track Leaders, 2500 Series Heavy Duty Cyclorama Track, 2500 Single Track, Straight CWANA, 2500-2 Double Track, Straight CWANA, 2500-2C Double Track, 1 Curve CWANA, 2500-3 Triple Track, Straight CWANA, 2500-3C Triple Track, 1 Curve CWANA, 2500C Single Track, 1 Curve CWANA

Includes 1/8" dia. nylon cable (up to 25 ft.) and 3" dia. ring

$

60.00

Quickview

2000 Series Curved Track, 2000 Straight Track CWANA, 2000 Track & Hardware, 2000C Curved (1 Curve) Track CWANA, 2500 Series Heavy Duty Cyclorama Track, 2500 Single Track, Straight CWANA, 2500 Track & Hardware, 2500-2 Double Track, Straight CWANA, 2500-2C Double Track, 1 Curve CWANA, 2500-3 Triple Track, Straight CWANA, 2500-3C Triple Track, 1 Curve CWANA, 2500C Single Track, 1 Curve CWANA

End Stop (pair.)

$

18.50

Quickview

1000 Series Straight Track, 1000 Standard CWANA, 2000 Series Curved Track, 2000 Straight Track CWANA, 2000C Curved (1 Curve) Track CWANA, 2500 Series Heavy Duty Cyclorama Track, 2500 Single Track, Straight CWANA, 2500-2 Double Track, Straight CWANA, 2500-2C Double Track, 1 Curve CWANA, 2500-3 Triple Track, Straight CWANA, 2500-3C Triple Track, 1 Curve CWANA, 2500C Single Track, 1 Curve CWANA, Track Carriers

Standard Neoprene Carrier (1 per track ft.)

$

117.50