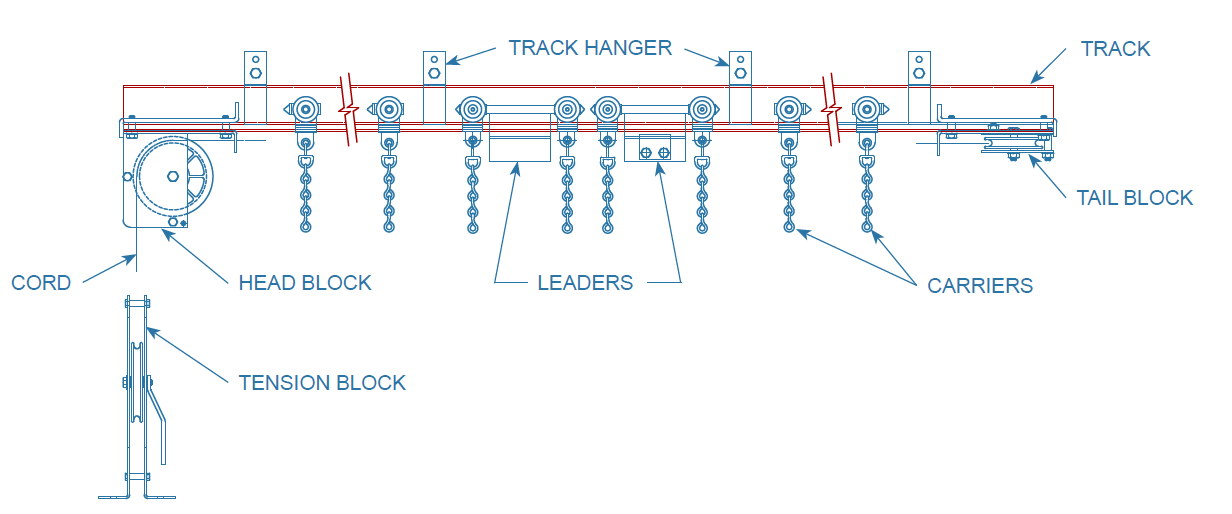 1000 Heavy Duty Straight Track is 14-gauge roll-formed galvanized steel with drop flange construction. CWANA* prices are based on purchase of 20 ft., 24 ft. or 30 ft. track lengths. Shorter lengths to be priced using individual parts and minimum track lengths of 20 ft. Track lengths over 30 ft. use CWANA price for first 30 ft. then individual pricing for additional components. Track may be equipped with standard or rear fold drapery carriers, scenery leaders (master carriers), masking leaders or pivot leaders.
*CWANA = Complete With All Necessary Accessories
1000 Series straight tracks are available in motorized, cord operated, or walk along formats. These tracks have an exclusive drop flange construction coupled with a fin guided carrier design to insure quiet, non-fouling and automatically aligning operation. Track may be rigged as bi-parting, lap, or one-way draw.
CWANA Drapery track assemblies include the following components:
1 ea.
1001 Track (20, 24 or 30 ft. lengths)
1 ea.
1002 Head Block
1 ea.
1003 Tail Block
2 ea.
1004 Leaders (Master Carriers)
1 ea.
1010 Adjustable Floor Block
1 lot
8010 Carriers provided 1 ft. on center
1 lot
1013 Intermediate Track Hangers provided 6 ft. on centers
2 ea.
1011 Center Hanger for bi-parting track
CWANA 1000 Drapery Track assemblies (specify length)
1000
Standard CWANA

Add CWANA to cart

1000BB
Ball Bearing CWANA

Add CWANA to cart

1000RF
Standard Rear Fold CWANA

Add CWANA to cart

1000RFBB
Rear Fold Ball Bearing CWANA

Add CWANA to cart

Standard and Ball Bearing Components
 1001
 Track Galvanized steel available in 20, 24 or 30 ft. lengths
 1002
 Head Block 5 1/2" dia. Nylon sheave
 1002A
 Head Block 8" dia. Nylatron
 1002H
 Head Block for horizontal take off
 1002V
 Head Block for vertical take off
 1003
 Tail Block 5 ½" dia. Nylon sheave
 1003A
 Tail Block 8" dia. Nylatron
 1004
 Leader Standard
 1004BB
 Leader Ball Bearing
 1005
 Lap Leader Standard
 1005BB
 Lap Leader Ball Bearing
 1006
 Drag Line Leader with 1/8" dia. nylon cable (up to 25 ft.) and 3" dia. ring
 1006BB
 Drag Line Leader Ball Bearing
 1006P
 Pivot Leader with 2" dia. x 5 ft. long 2" dia. steel tube
 1006PBB
 Pivot Leader Ball Bearing
 1006SCBB3/8
 Scenery Leader Ball Bearing 3/8" x 5" All Thread
 1006SCBB1/4
 Scenery Leader Ball Bearing ¼" Dia. x 5" All Thread
 1006SCBB 1/2
 Scenery Leader Ball Bearing ½" Dia. x 5" All Thread
 1006M
 Masking Leader Standard
 1006MBB
 Masking Leader Ball Bearing
 1007
 End Stop (pair) with 3/8" bolt and spacer
 1009
 Cast Iron Floating Tension Block (10 lbs.)
 1010
 Adjustable Floor Mounted Tension Block
 1011
 Center Hanger with Idler
 1013
 Intermediate Track Hanger
 1013S
 Track Splice Hanger
 1014
 Idler with 3/8" groove
 1015A
 1 1/4" Pipe Clamp (pair)
 1015C
 2" Tube Clamp (pair)
 1015D
 1 1/4" Tube Clamp (pair)
 8594
 2 Hole Tabs
 8597
 90 Degree Twist Tab
 1019
 Track Mounted Limit Switch Bracket
 1050
 Track Lug Splice
 8010
 Standard Carrier
 8010BB
 Ball Bearing Carrier
 BC12
 3/8" dia. Mahogany Bell Cord
 WRL14
 3/16" x 1/4" Clear Nylon coated aircraft cable
Rear Fold Standard and Ball Bearing Components
 1002RF
 Rear Fold Head Block
 1002RFA
 Rear Fold Head Block 8" dia. Nylatron
 1002RFV
 Rear Fold Head Block Vertical Take Off
 1003RF
 Rear Fold Tail Block
 1003RFR
 Rear Fold Tail Block Reverse
 1004RF
 Rear Fold Leader
 1004RFBB
 Rear Fold Leader Ball Bearing
 1004RFS
 Rear Fold Leader with Striker Arm
 1004RFSBB
 Rear Fold Leader Ball Bearing with striker arm
 1011RF
 Rear Fold Center Hanger with Idler
 1019RF
 Rear Fold Track Mounted Limit Switch bracket
 8010RF
 Rear Fold Standard Carrier
 8010RFBB
 Rear Fold Ball Bearing Carrier
 8011
 Rubber Washer for 3/8" dia. operating line
1000 Series Straight Track Components
Quickview

1000 Series Straight Track, 1000 Track & Hardware, 1200 Series Straight Track, 2500 Series Heavy Duty Cyclorama Track, 2500 Single Track, Straight CWANA, 2500 Track & Hardware, 2500-2 Double Track, Straight CWANA, 2500-2C Double Track, 1 Curve CWANA, 2500-3 Triple Track, Straight CWANA, 2500-3C Triple Track, 1 Curve CWANA, 2500C Single Track, 1 Curve CWANA, 2900 Lift Curtain Rigging, Rigging and Miscellaneous Hardware

2" tube clamp. (Pair)

$

7.00
1000 Standard CWANA
Quickview

1000 Series Straight Track, 1000 Standard CWANA, 2000 Series Curved Track, 2000 Straight Track CWANA, 2000C Curved (1 Curve) Track CWANA, 2500 Series Heavy Duty Cyclorama Track, 2500 Single Track, Straight CWANA, 2500-2 Double Track, Straight CWANA, 2500-2C Double Track, 1 Curve CWANA, 2500-3 Triple Track, Straight CWANA, 2500-3C Triple Track, 1 Curve CWANA, 2500C Single Track, 1 Curve CWANA, Track Carriers

Standard Neoprene Carrier (1 per track ft.)

$

117.50
1000BB Ball Bearing CWANA

1000RF Standard Rear Fold CWANA

1000RFBB Rear Fold Ball Bearing CWANA