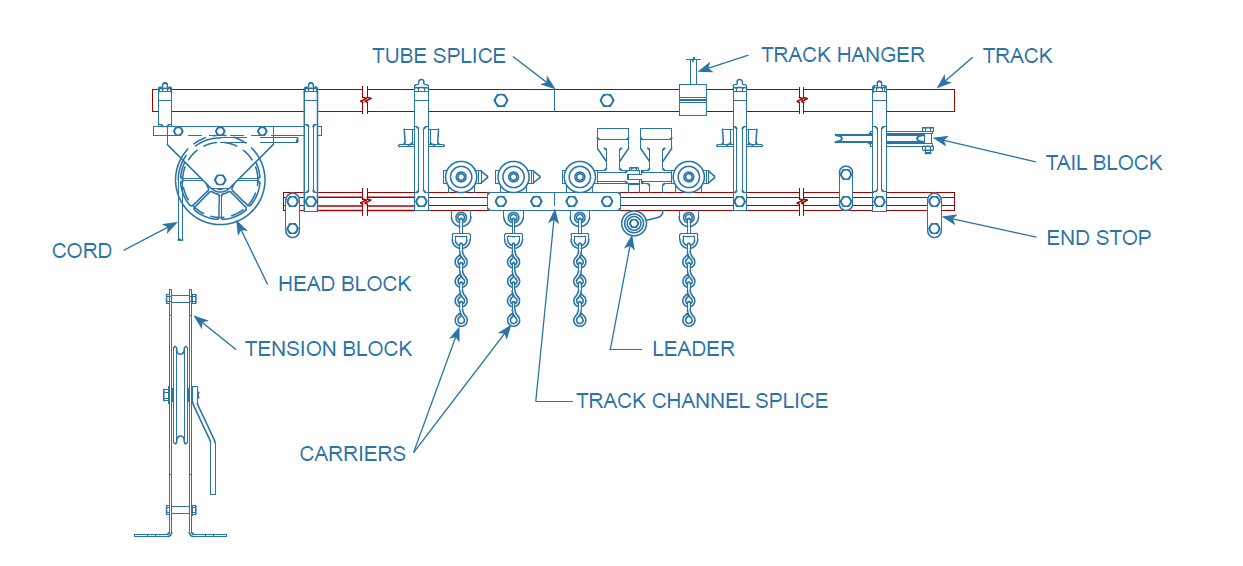 2200 Medium Duty Curved Track is formed using parallel 5/8″ steel tubes and parallel 14 gauge "C" channel carrier rails, supported with precision aluminum castings on 24″ centers. CWANA* prices for straight and curved track sections are based on purchase of 20 ft. track lengths. Minimum curve radius is 18″. Shorter lengths are priced on
request.
*CWANA = Complete With All Necessary Accessories
2200 Truss Track is available in straight, curved, or serpentine sections. Tracks can be supplied for manual, or preferably, motorized operation. Originally developed to meet the requirements of "Cinerama" in the 1950's, these tracks are renowned for providing years of trouble free operation. The parallel strong-back truss construction and aluminum intermediate supports result in an exceptionally strong and durable assembly. Radii can be as small as 18″ on the curved sections of this track.
CWANA Drapery track assemblies include the following components:
1 assy.
2200 Track Assembly (20 ft. only)
1 ea.
2203 Head Block
1 ea.
2206 Tail Block
1 ea.
2207 Leaders (Master Carriers)
1 pr.
1212 End Stops
6 ea.
2214 Hangers (provided on 4 ft.  centers)
1 ea.
1211 Spring Loaded Floor Mount Tension Block
20 ea.
1210 Intermediate Carriers (on 1 ft. centers)
CWANA 2200 Drapery Track assemblies
2200
Track Straight (20 ft. sections)

Add CWANA to cart

2200C
Track Curved (minimum radius 2′ 6″)

Add CWANA to cart

Additional Components
 2201
 Aluminum Casting Support – Center with Cap
 2202
 Aluminum Casting Support – Intermediate with Cap
 2203
 Head Block with Casting
 2203A
 Head Block without Casting
 2204
 Head Block with Vertical Takeoff
 2205
 Head Block with Horizontal Takeoff
 2205C
 Head Block with Horizontal Takeoff and Casting
 2206
 Tail Block with Casting
 2206A
 Tail Block without Casting
 2207
 Leader
 2207S
 Leader with Striker Arm
 8422
 Leader Adaptor for 1/4" Bell Cord
 2210
 Track Channel Splice (pair)
 2211
 Compound Pulley 2 1/2" dia.
 2214
 Hanger Brackets
 2215
 Track Mounted Limit Switch Bracket
 1210
 Carriers
 1211
 Spring Loaded Tension Block
 1212
 End Stop (pair)
 8122N
 Center Roller – Nylon with Bushing
 8123N
 Side Roller with Bushing
 8925
 Track Tube Splice (pair)
 8536A
 Aluminum Track Channel (20 ft. length)
 RST805
 5/8" x .049 Round Steel Tube 20ft. painted black and drilled for splice
 WRL13
 1/8" x 3/16"Clear Nylon Coated Aircraft Cable
 BC08
 Mahogany Bell Cord
2200 Series Curved Track Components
Quickview

1200 Series Straight Track, 1200 Series Straigth Track CWANA, 2200 Series Curved Track, 2200 Straight Track CWANA, 2200C Curved (1 Curve) Track CWANA, 2300 Series Medium Duty Cyclorama Track, 2300 Single Track, Straight CWANA, 2300-2 Double Track, Straight CWANA, 2300-2C Double Track, 1 Curve CWANA, 2300C Single Track, 1 Curve CWANA, Track Carriers

Intermediate Nylon Carrier (1 per track ft.)

$

62.50
2200 Track Straight (20 ft. sections)
Quickview

1200 Series Straight Track, 1200 Series Straigth Track CWANA, 2200 Series Curved Track, 2200 Straight Track CWANA, 2200C Curved (1 Curve) Track CWANA, 2300 Series Medium Duty Cyclorama Track, 2300 Single Track, Straight CWANA, 2300-2 Double Track, Straight CWANA, 2300-2C Double Track, 1 Curve CWANA, 2300C Single Track, 1 Curve CWANA, Track Carriers

Intermediate Nylon Carrier (1 per track ft.)

$

62.50
2200C Track Curved (minimum radius 2′ 6″)
Quickview

1200 Series Straight Track, 1200 Series Straigth Track CWANA, 2200 Series Curved Track, 2200 Straight Track CWANA, 2200C Curved (1 Curve) Track CWANA, 2300 Series Medium Duty Cyclorama Track, 2300 Single Track, Straight CWANA, 2300-2 Double Track, Straight CWANA, 2300-2C Double Track, 1 Curve CWANA, 2300C Single Track, 1 Curve CWANA, Track Carriers

Intermediate Nylon Carrier (1 per track ft.)

$

62.50